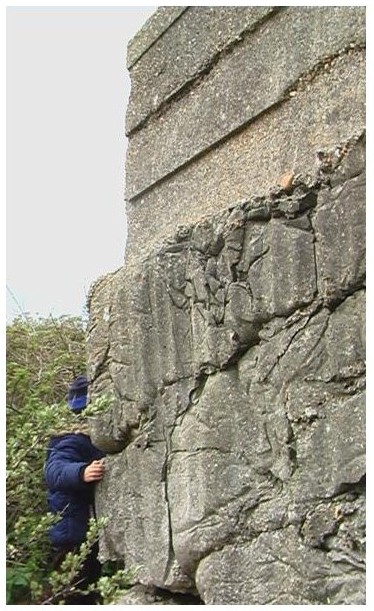 HAYWARD CONCRETE CAFÉ
PRIVATE VIEW TUESDAY 26th JUNE, 6.30 – 9 PM

ANDREA GREGSON PRESENTS A NEW SERIES OF WORKS CONSTRUCTED FROM FOUND  AND ACQUIRED MAN-MADE ITEMS AS WELL AS MATERIAL FROM NATURE. USING THE  ACTUAL OBJECTS AS WELL AS CASTING THEM IN DIFFERENT MATERIALS THEY ARE   REINVENTED AS SCULPTURAL ASSEMBLAGE. ANDREA GREGSON: MINDFUL THINGS IS PART OF A SERIES OF ARTISTS' PROJECTS  ORGANISED BY THE HAYWARD GALLERY'S EXHIBITION TEAM IN CONCRETE,  THE  HAYWARD'S CAFÉ / BAR.
Curated by Charu Vallabhbhai, Assistant Curator, Hayward Gallery
PREVIOUS PROJECTS HAVE FEATURED WORK BY: SAM
BELLINFANTE, BEN WADLER, HELEN ROBERTSON, MARIE JAGER, ADAM THOMPSON,  JAMES PREVETT, NICOLAS DESHAYES, DAN COOPEY, WILLEM WEISMANN, FRANCESCA  ANFOSSI, VICKY FALCONER, NICKI ROLLS AND DUNCAN WOOLDRIDGE

Click here to download Mindful things e-invite pdf
Supported by a UCA Research Funding Award
www.southbankcentre.co.uk
Follow us on Twitter: @southbankcentre
Ticket Office: 0844 847 9910
Southbank Centre is a Registered Charity No. 298909
This new series of works by Andrea Gregson is an assortment of objects constructed from found and acquired, often broken, man-made items as well as material from nature.  The individual elements in these sculptures have been collected by Gregson over a protracted period and are linked together by the journey through her life.  Reconfigured in this new body of work the many separate parts form a new cohesive whole.  Using the found objects as well as casting them in different materials, Gregson reinvents them as sculptural assemblage.
Within the display cabinet is a series of sculptures bringing together found items and components cast in bronze. The works are composed from parts of food and cosmetic containers and rocks found on walks along the Thames embankment as well as other locations. There is a distinct play between the moulded forms, where the original material has lost its specific character; the organic, raw state of the stone and rock constituents and the pieces that are remnants from modern-day life.
On the wall opposite, concrete sculptures disrupt the wall as evolving shapes emerge from the surface.  A transformation from visceral material to tangible form takes place, one that is reminiscent of the intermediary stages between liquid to solid states. Another series of sculptures are placed on the tables in Concrete Café, offering the invitation to be handled.  Ornamental in scale, these plaster objects are oddities with a debatable purpose.
The making of some of this new work was inspired by Gregson's recent encounter at Camber Sands with WW2 Bunkers that were cast in-situ on the beach.  Over time the ground has shifted to reveal the softer organic form of the foundations now visibly in strong contrast with the brutal structures of the wood cast bunkers. A relation echoed throughout Gregsons new work.
Andrea Gregson lives and works in London. She graduated with an MA in Fine Art at Manchester Metropolitan University following a Postgraduate Fellowship at the Academy of Fine Arts in Warsaw.  In 2012 she completed a Bronze Fellowship at Chelsea School of Art and is a Senior Lecturer in Fine Art at UCA Farnham.