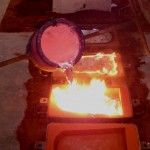 CHELSEA FOUNDRY FELLOWSHIP           SEMINAR  2013  
    Wednesday 30th October 2013
    3.00pm in the Green Room at Chelsea College of Art & Design
You are invited to see presentations by four more Foundry Fellows who have been working at different periods in the foundry at Chelsea College of Art & Design from 2011 until 2013.
These are the seventh, eighth, ninth and tenth Fellows at this year's seminar:  Andrea Gregson, Natuka Honrubia, Barbara Tong and Ian Middleton.
As well as the four individual presentations, there will also be a discussion by the Fellows about their thoughts and reflections on their time and experience while working in the foundry.
The Foundry Fellowship is a programme where we periodically invite an artist to work in the Chelsea College of Art Foundry in order to develop their practice through an agreed project involving the processes of Fine Art Bronze Casting.
 Whilst the prime aim of the fellowship is to support the Fellow in their individual work, we expect through their presence working alongside students and staff in the foundry, to open up discourse and debate about making, collaboration and the broader scope of creative practice. (Previous Fellows include; Prof. Paul Coldwell, Bruce Gernand, Robson Cezar, Sam Burford, Marco Chiandetti and Richard Slatter).
This is an opportunity to see the scope of work that has been produced during these fellowships, and for people to ask questions and give their views about this programme.
All Welcome.
Please RSVP to:    j.nicoll@chelsea.arts.ac.uk